LANCE LT-15 VACUUM TUMBLER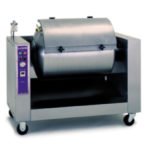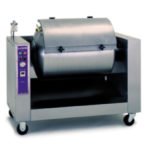 Description
Lance LT-15 massage vacuum tumbler, 200 lbs capacity, features include all Stainless Steel construction, large drum opening for easy cleaning, internal vacuum pump, waterproof mounted control panel, variable speed controls, digital timer, mounted on 4″ casters.
LT-15 Specifications:
*Physical Size: 47″ x 27″ x 35″ 
*Drum Capacity: 
 40 gallons (200 lbs, 150 liters)
*Vacuum Pump: Max Vacuum 26" Hg
*Motor & Drum Speed:   
 115V/1PH/60Hz, 20 Amps, 1-9 rpm 
*Timer Control: Up to to 99 hr. 59 min.
Options:
*Intermittent Pause Timer:
 On Time: 99 hr 59 min 
 Off Time: 99 hr 59 min
*Voltage Options: 
 220V/1PH/60Hz
 220V/1PH/50Hz
 380V/1PH/50Hz